Research Proposal
Conference
Short bio
Summary of the Research Proposal
This project concerns the new modalities of engagement with poetry in the digital era. On the one hand, the genre of 'digital poetry', which has emerged from audiovisual and textual convergence, brevity, and instant connectivity on social media, has refocused attention on poetic forms, greatly increasing poetry sales amongst young generations. On the other hand, artificial intelligence has been employed to craft poetry or poetic responses, challenging the boundaries between human creativity and algorithmically produced art. Despite the attention paid to these phenomena, the ways in which established authors and their work have become reconfigured in these expansive digital environments remains an underexplored topic. This project will employ the digital afterlives of the Greek-Alexandrian poet C.P. Cavafy, the most celebrated poet to have written in Modern Greek, as a springboard to examine the resignification of canonical poetry and short poetic forms more broadly through digital conventions.
This cross-disciplinary endeavor brings together literary studies and digital media theory. It locates in the case study of Cavafy's multimodal presence online a singular opportunity to analyse how digital tools and platforms have transcended poetry's print boundaries, by appropriating, fragmenting, and remodelling works traditionally encountered in print form. The case study will serve to extrapolate toward the broader cultural changes that flow of information and user agency introduce for literary posterity. For example, so far, critical theory has scrutinized the world canon for its Western and exclusionary constitution. But what does it mean for an artist's worldwide reputation to become untethered from cultural authorities and sustained through practices that are geo-expansive and inclusive of a multiplicity of voices, ideologies and identities? How, and to what effect, does this user-led and participatory engagement with poetry speak to audiences' needs and habits? This project will seek answers to these questions through the critical analysis of the digital environments that frame literary reputation. It will also trace how digital platforms themselves, and the opportunities they offer for engagement with poetry, shape users' overall online activity, preferences, and interactions.
By collecting and critically analyzing a breadth of material drawn from social media, journalism, and Cavafy's digitized archive this study will take a twofold approach: first, it will delve into the ways in which distinctive features of Cavafy's poetry and personality have been remediated online as part of broader discussions about the transformation of literature in digital landscapes; second, it will use the poet's example as a window into digital tools and their power to reconfigure audiences' contact with poetry. Methods to update contemporary teaching practices are also proposed, as a way to best address a generation of users that has naturalized the ecosystem and culture of connective media. Alongside the organization of a conference on Digital Poetry, this project will include education workshops aimed at university students and educators. It will also create a website aimed to assist educators with the development of methodologies that combine the teaching of poetry with awareness of new media practices.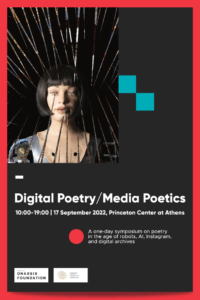 Symposium
Digital Poetry/Media Poetics
Saturday 17th September 2022
10:00-19:00, The Princeton Center of Athens, Timarchou 3, Pagkrati, Athens
This Symposium is part of the project "The Digital Afterlives of Great Poets; The Case Study of C.P. Cavafy" supported by the Research Centre for the Humanities (RCH) for the year 2022.
It is supported by the Onassis Foundation under the Special Grant & Support Programme for Scholars' Association members.

Please book on Eventbrite for IN PERSON ATTENDANCE or join online on Zoom: https://princeton.zoom.us/j/95622656481
---
10:00-10:30 Welcome and Coffee
10:30-10:45 "New Digital Lives/Afterlives"
Welcome by Foteini Dimirouli, Research Centre for the Humanities Scholar and Onassis Scholar
Welcome by Kalliroe Linardou, RCH Board Member, Athens School of Fine Art
10:45-11:30 Keynote 1 "Digital Poetics: Human Expressivity and Algorithmic Agency",
Jeneen Naji, Maynooth University
11:30-12:45 Panel 1: The Rise of Digital Poetics
"Hashtag Nature Poem: Reading Instapoetry as Anthropocentric Art Form",
James MacKay, European University Cyprus
"Tag-Bait: How Instapoets Promote Posts through Poe(t/m)-tagging",
Jueunhae Knox, AHRC, University of Glasgow, University of Sheffield
"Who are your muses?": Authorship and Performativity in AI Poetry Generation",
Ioanna Zouli, National and Kapodistrian University of Athens
"Born-Digital Archives and the Future Literary",
Anna Maria Sichani, School of Advanced Study, University of London
12:45-13:15 Q&A
13:15-14:15 Lunch Break
14:30-15:15 Keynote 2 "Ai-Da: How we made the world's first ultra-realistic humanoid AI robot artist", Aidan Meller, Oxford
15:15-16:30 Panel 2: Rethinking Authority: Cavafy Digital
"Cavaf-e: A Case Study in Social Media Pedagogy",
Foteini Dimirouli, postdoctoral researcher, Research Centre for the Humanities Scholar and Onassis Scholar
"Unlocking the Cavafy Archive: People – Images – Stories. A new digital education project", Aggeliki Mousiou, Cavafy Archive | Onassis Foundation and Sophia Zisimopoulou, The Athens Fine Art School
"Listening to the Cavafy 'Dionysos' recordings: Historicising Performance Traditions through Digital Tools",
Fiona Antonelaki, University of Thessaly
16:30-17:00 Q&A
17:00-17:30 Coffee Break
17:30-18:30 Roundtable Discussion
18:30-19:00 Final Comments and Close
---
Symposium Programme (PDF, PNG)
---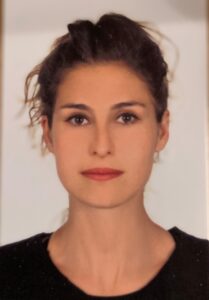 Foteini Dimirouli completed her BA and MA in English Literature (Athens University, Durham University), and her doctorate in Comparative Literature (University of Oxford). Her DPhil concerned the gradual constitution of C.P. Cavafy's reputation on the global literary scene, as this materialized through the mediation of prominent Anglophone writers during the 20th century. Her book Authorising the Other: C.P. Cavafy in the English and American Literary Scenes is forthcoming by Oxford University Press in 2022. She was appointed postdoctoral fellow at Princeton Center for Hellenic Studies in 2017, and after that postdoctoral researcher in English and Comparative Literature (Junior Fellow) and lead of the programme for access and outreach at Keble College, Oxford.
In her publications she has examined the production of authorial fame from a sociological perspective, as well as the question of the autonomy of the work of art in contexts of authoritarianism and censorship. Her current research focuses on the digital remediation of literature, as well as the issue of gender and otherness in translating practice. She has taught extensively in the area of 19th and 20th English, Greek, and Comparative Literature, both at an undergraduate and masters level, and has presented her research at international conferences and seminars. She is member of the Onassis Scholars' Association and Visiting Fellow at the Hellenic Institute of the American College of Athens.