Research Proposal
Conference
Short Bio
Publications
Summary of the Research Proposal
The proposed project will examine the activities conducted by Greek archaeologists in Asia Minor between 1919-1922 and their role in the wider national identity building in South East Europe and Turkey, after World War I. The project entails bibliographical and archival research, compiling information on specific sites in Turkey – the theatres of this particular 'conflict' archaeology and heritage management in the early 20th century.
The project is a systematic research and compilation of data concerning the activities of the Greek Archaeological Expedition in Asia Minor (1919-1922), its prominent members and their role in the political context, in the midst of the disintegration of the Ottoman Empire and the growing economic interests of several European countries.
The main research problems to be tackled include:
To examine why specific sites were chosen for archaeological activities, how were they researched, and what key findings were produced.
To investigate the Greek Archaeological Expedition's activities in Asia Minor and their relationship to the contemporary heritage projects in Greece and Turkey, including how 'classicism' and the 'byzantine identity' contributed to nation-building in the early 20th century.
To analyse relationships between the Greek Archaeological Expedition's activities and the excavation/movement of antiquities in Asia Minor after WWI by other foreign archaeological schools.
To examine how the antiquities unearthed were aligned to different national narratives, and the extent to which this provides a useful benchmark for the uses and abuses of cultural heritage in the creation of 'national consciousness' for the 'imagined communities' of South East Europe in the beginning of the 20th century.
To consider the potential of this case-study of the use of cultural heritage in a turbulent era as a common basis for future projects which promote mutual understanding between Greece and Turkey.
To examine the value of archaeological knowledge created in the mid-20th century as the basis for an inclusive management plans of sites with contested histories such as the ones discussed.
The proposed project is the last phase of a wider research programme that commenced in 2007 and it will culminate in a small book, to be completed in 2019, one hundred years after the landing of the Greek forces in Asia Minor.
To view the conference's program in Greek, click
here
and browse to the tab "Ημερίδα".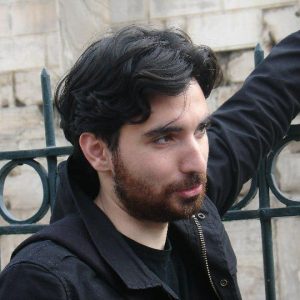 Stelios Lekakis studied classical archaeology and heritage management at the University of Athens and the University College London. He is currently a researcher at Newcastle University (landscape archaeology, characterization, perception and management) and teaches cultural management at the Open University of Cyprus and political economy at the Hellenic Open University. He works with NGOs (a founding member of MONUMENTA) and university departments -in Greece and abroad- as a cultural heritage consultant, focusing on participatory management and cultural informatics projects. He has published extensively in various academic journals and edited volumes.
Selected Publications
Lekakis, S. (ed). Cultural heritage in the realm of the commons. London: Ubiquity Press (forthcoming)
Lekakis, S. Archaeology on the front line: digging politics in Asia Minor 1919–1922. Heritage Turkey 8 (forthcoming)
Lekakis, S., Shakya, S., Kostakis, V., 2018. Bringing the community back: Α case study of the post-earthquake heritage restoration in Kathmandu valley. Sustainability 2018, 10, 2978.
Lekakis, S., 2018. "To the splendour of our Byzantine heritage". Managing Orthodox churches in the island of Naxos, in J.Crow, D.Hill (eds.), Naxos and the Byzantine Aegean: Insular Responses to Regional Change Papers and Monographs from the Norwegian Institute at Athens, Vol. 7. Athens: Norwegian Institute at Athens: 371-390
Λεκάκης, Σ., 2017. Νησιωτικοί κόσμοι: Συζητώντας τις έννοιες του νησιού και της νησιωτικότητας στο Αιγαίο, στο Μ. Σέργης, Β. Φραγκουλόπουλος (επιμ.) 2017, Πρακτικά του Ε΄ Πανελληνίου Συνεδρίου: Η Νάξος διαμέσου των Αιώνων. Νάξος: Δήμος Νάξου & Μικρών Κυκλάδων, 785-800
Λεκάκης, Σ., Γρατσία, Ε., Σιδέρη, Α. (επιμ.), 2016. Πράττουμε για τα μνημεία. Αθήνα: Εκδόσεις MONUMENTA. Συνεπιμέλεια πρακτικών της 3ης ημερίδας-δημόσιας συζήτησης του προγράμματος «Τοπικές Κοινωνίες & Μνημεία» με εκτεταμένη εισαγωγή, πρόλογο και αγγλική περίληψη.
Λεκάκης, Σ., 2016. H διαχείριση της πολιτιστικής κληρονομιάς στην Ευρώπη και την Ελλάδα. Μια επισκόπηση, στο Μ. Φιλήμονος, Β. Νικολόπουλος και Χρ. Μητσοπούλου (επιμ.), Η αρχαιολογία στην Ελλάδα του σήμερα. Πρακτικά του συνεδρίου της ΗΩΣ, 24-25.05.15.  Αθήνα: ΗΩΣ, 115-132
Lekakis, S., 2012. The Cultural Property debate, in T. Smith, D. Plantzos, 2012. A Companion to Greek Art, vol.2. Oxford: Wiley-Blackwell, 683-697