Research Proposal
Conference
Research Results
Short Bio
Publications
Summary of the Research Proposal
My research proposal 'Performanscapes: Fugitive Athens and the Arts of the Possible' analyzes the emergence, prevalence and proliferation of experimental performance practices during the last few years in Athens, Greece. There has been an undeniably phenomenal rise in the diversity of performance appearing from within and against the backdrop of an ongoing economic and social crisis whether in dance, experimental theatre, queer poetry readings, migrant contact improvisation groups, amongst many others, occupying both public and private spheres. These performative mobilizations, emerging from a country not usually understood as an important site for avant-garde artistic production, act as counterpoints to the larger social movements of the last few years. My research proposal focuses on these critical performance practices as they gesture from within spaces, including but not limited to, the streets, apartments, the occupation of Empros theatre in 2011 as well as the recent artistic occupation of the Green Park café in the Pedion tou Areos park. My research project argues that these manifestations can be understood as forms of 'performancescapes.' By way of this neologism I want to point to several things at the same time. First the creation and imagining of other times and landscapes produced through collectively run spaces, efforts and performances as well as the ways in which processes and experiences of precarity necessarily unleash new bodily positions, relationalities, languages, sounds, gestures and postures. By critically analyzing and theorizing different performance practices my research addresses how subjectivities imaginatively embody moves and resistances in response to a lack of infrastructural and economic support. More precisely, the performances studied reveal the innovativeness and critique launched by marginalized groups, whether due to class, gender, sexuality and race through their artistic practices. Thus, my notion of performancescapes, which grapples with notions and materialities of constitutive borders, transgressions, dissonances and conflicts, is about a certain fugitivity, an escape prior to or in response to processes of subjection. Furthermore, the experimental and improvisatory practices studied reveal how the performancesacapes they ephemerally produce are not merely about a fight or a simplistic exit but rather express transformative breachings of repressive structures and orders and thus are always already intersectional and political. The writing of the word 'performancescapes' itself attempts to perform a linguistic breaching of sorts and suggests that radical differential performance practices are always a matter of theatrical, poetic and aesthetic being. For, if as Otto Bismarck once remarked, politics is the art of the possible, this research proposal argues for the importance, during these critical and challenging times, of paying attention to actual artistic and performances practices taking place across the city that singularly and collectively articulate and imagine other possible ways of being in the world.
This research project was funded by the Research Centre for the Humanities (RCH), with the support of the John S. Latsis Public Benefit Foundation.


Symposium
"(non)performance as method"
October 29, 2016
Green Park, Mavromateon 22, Pedio tou Areos
Organizer: Hypatia Vourloumis, Research Fellow at the Research Centre for the Humanities (RCH).
This symposium is part of Hypatia Vourloumis' postdoctoral research with The Research Centre for the Humanities (RCH) for the year 2016.
---
This one day conference will engage with the theme of "(non)performance as method" in order to explore the ways in which artistic and cultural practices, by way of their myriad articulations and forms offer methods and blueprints for compositions of social life. More specifically, the conference will study performance practices that work against and through sets of constraints (economic, physical, social, material etc), and is particularly interested in engaging with the entanglement of historical, contemporary (and potential) artistic, cultural processes and modes of political being and (un)becoming. Thus, in addition to an in-depth engagement with examples of certain strategies, actions and enactments, while always emphasizing practice as method and theory made material, we will also be grappling with formations of refusal and escape, which is to say, we will be thinking about the questions raised by those performances that refuse to perform in a certain way, that refuse certain calls to perform. Therefore the question of (non)performance as practice also becomes one of collaborating, improvising and living otherwise.
---
 Program
11:00  Welcome and Introduction by the organizer Hypatia Vourloumis
11.30  Panel 1: Theory/Praxis
Evgenia Mylonaki (PhD Philosophy, University of Pittsburgh) "Dehumanizing Humanities"
Stefanos Pavlakis (artist, PhD, University of Dundee) "Excursions to the Other Side: Field notes on the poetics of artistic research"
Eirini Avramopoulou (PhD, Anthropology, University of Cambridge) "Refusing to perform the subject of crisis? Reflections on the performativity of everyday life and epistemic violence."
12.45  Round Table – Collective performance as method
AMOQA – Maria Dolores (artist)/Adrianni Simati (PhD candidate, Social Anthropology, Aegean University)
Learning from Documenta. Elpida Rikou (co-founder TwixtLab, anthropologist/artist)
DIY Performance Biennale: No Future. Gigi Argyropoulou (PhD, Performance Studies, Roehampton University)
2.00  Lunch Break
3.30  Talk – "Non-Performing Debt: Speculation and Negation in Aesthetics in and of the Present" Marina Vishmidt (Lecturer, Goldsmith University, London)
4.45  Coffee Break
5.15  Panel 3 – (Non)performance and lecture method
Panagiotis Panagiatokopoulos (artist, DAI, NL) "Is it too Late to Speculate?"
Despina Sevasti (artist, DAI, NL) "Learning from Her"
Astarti Athanasiadou (artist, DAI, NL) "Performance as Subject and Refusal as Right/My Paradise"
7.00  Screening of Wu Tsang's  film work with Q & A.
8.15  Closing – (Non)performances
Yorgia Karydi (sound artist) – "playoffs"
9.00  Kostas Tsioukas (dancer) – "Imagine Peace"
9.45  boychild (performance artist)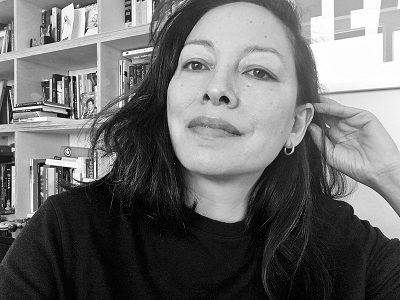 Hypatia Vourloumis received her Ph.D in performance studies at New York University. She was postdoctoral fellow at the Interweaving Performance Cultures research centre at Freie University, Berlin (2012-14) and lecturer at the International Centre for Hellenic and Mediterranean Studies in Greece. She teaches critical theory at the Dutch Art Institute. Publications include essays in Theatre Journal, Performance Research, and Women & Performance: a journal of feminist theory among others. She is co- editor of the special issue 'On Institutions' for Performance Research Journal and is completing a monograph on the politics and performance of Indonesian postcolonial paralanguage. Her teaching and research interests include anticolonial studies, performance theory, contemporary Greek and SE Asian cultural production, philosophies of language, music and poetics, and race, gender, queer theory.
Relevant Articles
"Repeating Brokenness: Repair as Non-Reproductive Occupation, Improvisation and Speculation." (with Gigi Argyropoulou). Special Issue: "Repair Matters" Ephemera: journal of organization studies
May 2019
"Processing Mary Zygouri: The performance of performance." Venus of the Rags 2014 Eleusis: Mary Zygouri.
Fondazione Pistoletto, 2017
"Other Things can Happen/Space is the Place." DESTE Prize: An Anniversary Exhibition 1999 – 2015
DESTE Foundation, 2017
"Come and see what we do: Contemporary Migrant Performances in Athens, Greece." Theatre Journal
May 2014
"Minima Melancholia: Performances of Affective Refusals and Rem(a)inders" Live Arts Research Journal
September 2013
Edited Journals
Special Issue: "On Institutions." (with Gigi Argyropoulou), Performance Research Journal.
August 2015