Research Proposal
Short Bio
Publications
Summary of the Research Proposal
This project considers the study of recent developments on artistic research in Greece as an occasion for an important theoretical and methodological contribution in this newly established field. It is timely in doing so, both given that artistic research, its history and prospects are of great interest internationally, and in view of the fact that, even though artistic research has become essential in cultural production of value worldwide, it is still not well documented as a social phenomenon and remains under-theorized, in need of specific case studies.
The term artistic research, referring to activities in the processes of art production that could qualify as "research," is relatively recent but it has already been strongly debated. This project responds to the growing interest for artistic research, nowadays, related to current drifts in the arts, which may be understood as a confirmation of the artists' innovative spirit that opens up new perspectives for scientists themselves or as a by-product of neoliberal antagonistic relationships in education that could restrict artistic freedom by creating a new academy.
The project focuses on the fact that since the 1990s artistic research has seen a significant development in Greece too, due to artistic initiatives drawing from social sciences and humanities in order to produce art with political overtones. This tendency has been reinforced during the current crisis when the need for art activism was clearly felt and encouraged by the international attention that contemporary Greek art production gained. Meanwhile, Greek Fine Arts Schools face the challenge of artistic research and of further updating their curriculums.
The research project combines notions and tools from anthropology and art history in order to document and theorize artistic research in Greece from the 1990s, when it first appears, onward. Methodology and outcomes can be summarized as follows: 1) An archive of artworks, artists, and exhibitions will be developed. 2) An online platform will be designed and implemented in order to host the research material. 3) A selection of projects will be uploaded into an international database for artistic research, also offering artistic research in Greece wider visibility. 4) Four selected in-progress artistic researches will be compared through participatory observation and in-depth interviews. 5) An article theorizing the field of artistic research in Greece will be submitted to a relevant peer-reviewed journal. 6) An event will be organized to publicize the research results and serve as an occasion for an informed dialogue amongst Greek and international artists, scientists and theorists.
This project will provide a solid background for the study of artistic research culture within and around academia both in Greece and internationally and will deepen our understanding of art-making processes, their institutional context and the public perception of contemporary arts. A number of questions on creativity, interdisciplinarity, and collaboration in scientific and artistic research will be posed and their educational and political implications will be thoroughly considered.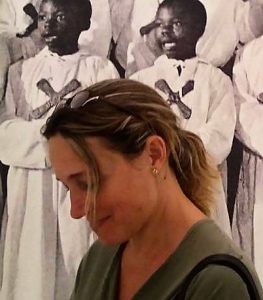 Elpida Rikou has studied sociology (Panteion University, Athens), anthropology (D.E.A., Université Paris V-Sorbonne), social psychology (D.E.A. and Ph.D, Ecole des Hautes Etudes en Sciences Sociales, Paris) and visual arts (Athens School of Fine Arts). She has taught Anthropology of Art in the Department of Theory and History of Art of the Athens School of Fine Arts from 2007 to 2017.From 2011 to 2013 she has also taught in the Postgraduate Program (Master in Fine Arts) of the Department of Visual Arts of the same School. She is the editor of the volume Anthropology and Contemporary Art (Alexandria, 2013) for  which she has also written the introduction, as well as of the translation in Greek of Marc Augé's book Pour une anthropologie des mondes contemporains (Alexandria, 1999). She has co-edited the translation in Greek of Alfred Gell's book Art and Agency (M.I.E.T., forthcoming), two volumes combining works of artists and social scientists on value (Αξία, nissos, 2018) and on sound and voice (Φωνές/Fones, nissos,2016), as well as the special issue of FIELD.A journal of socially engaged art criticism on research between art and anthropology (2018). She has published articles in scientific periodicals, edited collections, art catalogues and newspapers. She has conceived and coordinated several art projects with a transdisciplinary character in which she is also a participant as an anthropologist and visual artist, since 2010 (the art, research and education project TWIXTlab, with S.Grigoriadou and G.Samantas, the international research project "Learning from documenta" with E.Yalouri, etc.).
---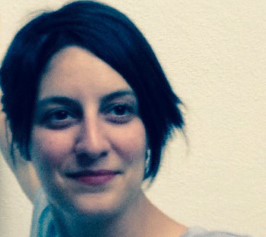 Katerina Konstantinou is an art historian and holds an MA in Exhibition Curating. She is currently a PhD candidate in the Department of Social Anthropology at Panteion University in Athens. Her research interests focus on the intersection of the fields of contemporary arts, anthropology and archaeology. She has participated in several research programs. She has worked for museums and cultural institutions in Greece and abroad. She has participated in conferences and she has published texts in collective volumes, exhibition catalogs and magazines. Lately, she has been closely collaborating with artists in various projects that involve research methods and practices into the art-making processes.
Selected Publications
2018, «Αξία» (σε συνεργασία με τους Ε. Γιαλούρη, Α.Λαμπρόπουλο).Αθήνα: νήσος
2016, «Φωνές/Fonés»(σε συνεργασία με τον Π.Πανόπουλο). Αθήνα: νήσος. (Συλλογή κειμένων και έργων των Αθανασίου, Αλιγιζάκη, Αντωνάκη, Αρβανίτη, Γιαλούρη, Γκλίνου, Γρηγοριάδου, Ερράντες, Ζήκα, Ξαγοράρη, Καρατζαφέρη, Κονδυλάτου, Κωβαίου, Μπαϊρακτάρη, Μπήτου, Μπουμπάρη, ΝτεΛαννουά, Πανόπουλου, Παππά, Παπουτσάκη, Ραυτοπούλου, Ρεμούνδου, Ρεμύ, Ρίκου, Σαμαντά, Σαραφείδου, Σιαφά, Σκλαβενίτη, Στεφάνου, Χαβιαρά, Χαραλάμπους. Περιλαμβάνει μετάφραση κείμενου του Ζ.Λ.Νανσύ)
2013, «Ανθρωπολογία και Σύγχρονη Τέχνη». Αθήνα: Εκδόσεις Αλεξάνδρεια. (συλλογή κειμένων/συγγραφείς: J.Clifford, J.Coote, H.Foster, A.Gell, P.Gow , G.Marcus, H.Morphy, F.Myers, J.Overing, J.Weiner. Σε μετάφραση των Β.Ιακώβου, Ε.Καρρά, Π.Μαρκέτου, Δ.Σαραφείδου, Β.Σπυροπούλου, Α.Τσίγκα)
(υπό δημοσίευση).   Gell, Α.,«Τέχνη και Δράση» (1η εκδ.1998). (σε συνεργασία με τον Π.Πανόπουλο), (Μετάφραση: Π.Μαρκέτου). Αθήνα: Εκδόσεις  Μ.Ι.Ε.Τ.
1999, Ωζέ, Μ.,«Για μια ανθρωπολογία των σύγχρονων κόσμων» (1η εκδ.1994). (Μετάφραση: Δ.Σαραφείδου), Αθήνα: Εκδόσεις Αλεξάνδρεια. (περιλαμβάνει συνέντευξη του Μ.Ωζέ στην Ε.Ρίκου)
 (υπο δημοσίευση).«Contemporary Art and 'Difficult Heritage'.Three case studies from Athens.» (σε συνεργασία με την Ε.Γιαλούρη). Στο E.Solomon (επιμ.). Contested Antiquity, Indiana University Press.
2014, «When the 'dematerialization of the art object is taken to an extreme':Notes on'materiality's relevance to the anthropology of contemporary art.». Στο Bampilis T. & P. ter Keurs (ed.),Social Matter(s).Anthropological Approaches to Materiality. Οξφόρδη, Νέα Υόρκη: Berghah Books, σ.183-192.
2012, «Η σύγχρονη τέχνη – της ανθρωπολογίας». Στο Ε.Γιαλούρη (επιμ.) «Υλικός πολιτισμός. Η ανθρωπολογία στη χώρα των πραγμάτων», Αθήνα: Εκδόσεις Αλεξάνδρεια, σ. 151-170.
2018, «The Art of Research Practices between Art and Anthropology» (επιμέλεια ειδικού τεύχους σε συνεργασία με την Ε.Γιαλούρη). FIELD.A Journal of Socially Engaged Art Criticism. Special issue (autumn) (Περιλαμβάνει κείμενα των T.Fillitz, T.Ingold, G.Marcus, R. Sansi, A.Schneider,E.Rikou, C.Wright, E.Yalouri)
2017, «Learning from documenta. A research project between art and anthropology» (σε συνεργασία με την Ε.Γιαλούρη). Στο On Curating 33, Special Issue on documenta, N. Buurman και D.Richter (eds), σ.132-138.
2016, «Crisis as Art: Young Artists Envisage Mutating Greece (σε συνεργασία με την Η.Χαβιαρά). Στο Visual Anthropology Review, Special Issue: «Uncertain Visions. Crisis, Ambiguity and Visual Culture in Greece» (επιμέλεια Κ.Καλαντζής), vol.32, issue 1, σ.47-60.