Research Proposal
Workshop
Short Bio
Publications
Summary of the Research Proposal
The project focuses on the examination of the typology and cultural permeability of Nordicism within the Western European cultural sphere between the wars. It traces the cluster of ideas developed around the problematic historical trajectory of Nordicism, paying necessary attention to questions of meaning, reception, interpretation and identity. Its central objective is to set the foundations for the writing of an alternative cultural history of Western Europe in which Nordicism is not reduced to interpretations of nationalism, racism and regionalism but advocates a distinct transcendental cosmopolitanism. This project takes as a point of departure the concept Le Génie du Nord, which featured as the title of a 1925 book published in Antwerp by the Flemish author André de Ridder.  The book mainly consisted of essays previously published in the Francophone Flemish art magazine Sélection (edited by De Ridder and Paul-Gustave van Hecke). Shifting in time between the present and the Middle-Ages, De Ridder literally argued that France should not claim autonomy in the field of cultural production throughout the centuries since Nordic influence has always played a central role to its evolution. In response to what he identifies as decline in the Greco-Roman tradition of the South, De Ridder proposes a Western European alliance (France, Belgium, Germany) aiming at the creation of a Northern classicism, the crowning achievement of a universal Nordic culture. By identifying Antwerp as a cultural crossroad, this research seeks to trace aspects of cosmopolitanism in De Ridder's term 'The Northern Genius', as well as north-south antagonisms ιn a regional and pan-European context.
CfP: Imagining the North. Between Regionalism and Cosmopolitanism (November 25th, 2020)
North-South confrontations became commonplace conflicts in regional, national and global contexts with the rise of modern nation-states. In Europe, following the territorial expansion of the Roman Empire, the territories located beyond the Mediterranean region were indistinguishably termed Northern, a concept widely accepted and used in Renaissance scholarship. In antiquity, Southern imagination had constructed symbolic images of the savage and other-worldly terrae incognitae of the North (Hyperborea), which were perpetuated in the Middle-Ages under the mantle of supernaturalism, a 'motif that has remained remarkably consistent' within the 'shifting images of Northernness' (E. R. Barraclough, D. M. Cudmore, S. Donecker (eds), Imagining the Supernatural North, 2016, p. xiii). Although the European discourse on Northernness was persistently a discourse on otherness (p. xvi), it was gradually transformed at the age of Romanticism and was totally reshaped in the beginning of the 20th century as a result of the rise of ethnocentrism and the nationalization of history. Following the late 19th century historiographical debate over the cultural and racial origins of France and the question of its Germanic and/or Latin identity, the concept of Northernness was redefined with regards to its propagated inferiority in relation to Southern culture and was re-appreciated in its geographical, cultural, ideological and historical topoi. In 1925, the Flemish author André de Ridder published Le Génie du Nord, a book proposing Franco-Belgian cultural alliance on the basis of an idealized medieval past, aspiring to set the foundations for a cosmopolitan Northern culture. Expressions of disdain over Southern hegemony are furthermore traced in the writings of the British Vorticists, although Northernness in Britain has been principally approached from a local and regional rather than a pan-European perspective (Cf. Dave Russell, Looking North: Northern England and the National Imagination, Neville Kirk, Northern Identities. Historical Interpretations of the North and Northernness etc).
This workshop focuses on 20th century discourses that stress the shared heritage and cosmopolitan culture of Northernness in North-Western Europe as well as the rejection of Southern cultural hegemony and the classic canon through the introduction of its Northern equivalent. We are seeking for papers that trace relevant references and concepts in interbellum art and literature. We are particularly interested in examples from the North-Western regions of Europe, namely Belgium, France, Germany, and Britain that investigate the symbolic geographies, mental maps and cosmopolitanism of Northernness in artistic and literary contexts.
The workshop will be held online via webinar presentations. Presentations should be in English. Extended and improved versions of selected papers will be published online by the Research Center for the Humanities (rchumanities.gr).
We invite abstracts (max. 300 words) for twenty-minute papers to be submitted electronically, with a short CV, to both
Prof. Marnix Beyen, University of Antwerp (marnix.beyen@uantwerpen.be) and
Dr Chara Kolokytha, RCHumanities / UoI (charakolokytha@aol.com)
The deadline is due on 18th September 2020.
---
Call for Paper (PDF)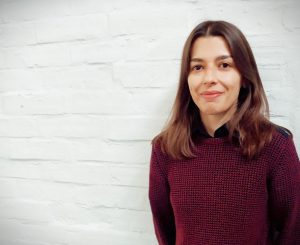 Chara Kolokytha holds a PhD in Art History from Northumbria University, Newcastle. She is a Teaching Fellow at the Department of Fine Arts and Sciences of Art, University of Ioannina. She studied Archaeology and Art History at the University of Crete and Northumbria University, Newcastle-upon-Tyne. Her thesis titled Formalism and Ideology in 20th century Art: Cahiers d'Art, magazine, gallery and publishing house (1926-1960) examines aspects of modernism and tradition in 20th century art with certain focus on the networks of dealers, critics, artists and collectors associated with the activities of the art magazine, gallery and publishing house Cahiers d'Art and its founder Christian Zervos, aiming at the institution of independent art in France. In 2018, she conducted post-doctoral research at the Stiftung Arp e. V., in Berlin. She has collaborated with the research programmes Christian Zervos au miroir de la Grèce (EFA) and Bibliographies de Critiques d'Art Francophones (Labex CAP, Sorbonne), as well as the Allgemeines Kunstlerlexikon, the Art Market Dictionary, the Routledge Encyclopedia of Modernism et al.
Chara Kolokytha,  'Picasso vs. Fougeron: Cahiers d'Art and quarrels over realism in France (1932-1949)', in Moritz Baßler, David Ayers, Benedikt Hjartarson, Ursula Frohne and Sascha Bru (eds), Realisms of the Avant-Garde, European Avant-Garde and Modernism Studies vol.6, Berlin&Boston : De Gruyter, 2020.
Chara Kolokytha, 'Christian Zervos, les galeries Cahiers d'Art et M.A.I., la suppression des –ismes de l'Art,' in Denise Vernerey and Hélène Ivanoff (eds) Galeries et Avant-gardes : Réceptions croisées, vol. II: Berlin, Mont-Saint-Aignan : PURH, 2020.
Chara Kolokytha, 'Christian Zervos critique d'art: partis pris, polémiques et débats,' in Catherine Méneux and Marie Gispert (eds), Critique(s) d'art : nouveaux corpus, nouvelles méthodes, Paris, site de l'HiCSA, mis en ligne en avril 2019, pp. 257-272.
Chara Kolokytha, 'Cubism [REVISED AND EXPANDED]', in Stephen Ross (ed.), Routledge Encyclopaedia of Modernism, N.Y./London: Routledge, 2019 (4.500 words) /shorter version published in 2016.
Chara Kolokytha, 'Matisse [REVISED AND EXPANDED]', in Stephen Ross (ed.), Routledge Encyclopaedia of Modernism, N.Y./London: Routledge, 2019 (2100 words) / shorter version published in 2016.
Chara Kolokytha, 'A new History of Art Criticism in the light of Digital Humanities: The Bibliography of Francophone Critics,' Visual Resources, An International Journal on Images and their Uses,  3-4, vol. 33, Taylor & Francis, 2017, pp. 419-422.
Chara Kolokytha, 'Christian Zervos, Les Oeuvres du Greco en Espagne, review of the Greek annotated translation', Ιστορία της Τέχνης / Art History 6, summer 2017, pp. 181-185.
Chara Kolokytha, 'Metamorphoses of the past: The iconographic stimuli of Picasso's creative imagination and their critical interpretation by Christian Zervos,' in Magdalena Nová and Maria Opartná (eds), Old and New: Are Old Works of Art a Starting Point or an Obstacle?, conference proceedings, Prague: Charles University, Catholic Faculty, 2016, pp. 225-232.
Chara Kolokytha, 'The debate over the creation of a Museum of Modern Art in Paris between the wars and the shaping of an evolutionary narrative for French art,' in Silvia Cecchini and Patrizia Dragoni (eds), Museums and Exhibitions between the wars, Il Capitale Culturale. Studies on the Value of Cultural Heritage 14, EUM, 2016, pp. 193-222.
Chara Kolokytha, 'La critique d'art dans l'entre deux guerres: Le cas de Tériade et Christian Zervos,' F.-G. Theuriau (ed.) La démarche critique dans le monde culturel, Ed. Vaillant, 2015, pp. 81-90.
Chara Kolokytha, 'L'Âge Critique des Salons: 1914-1925. L'Ecole Française, la tradition et l'art moderne,' Konsthistorik Tidskrift/Journal of Art History 4, vol. 48, 2015, pp. 234-238.
Chara Kolokytha, 'L'amour de l'art en France est toujours aussi fécond : La Maison d'Editions Verve et la reproduction de manuscrits à peintures conservés dans les Bibliothèques de France pendant les années noires (1939-1944),'French Cultural Studies 2, vol. 25, Sage Pub., May 2014, pp. 121-139.
Chara Kolokytha, 'O Tériade, η επιθεώρηση Verve και ο Παρισινός καλλιτεχνικός κόσμος (1937-1960),' in Tériade: France-Grèce, Tellogleio Arts Foundation and Aristotle University of Thessaloniki. [English title: Tériade, Verve magazine and the Parisian art world, 1937-1960/ publication pending since 2015].
Chara Kolokytha, 'Destroy…Alexander Iolas: The villa-museum and the relics of a lost collection,' Arts 3 / Special Issue Exhibition Studies, vol. 1, MDPI, Basel, Switzerland, Feb. 2014, pp. 105-115.
Chara Kolokytha, 'Line V. Color: Matisse: The essence of line, Selected Prints: 1900-1950,' Art In Print, Chicago, Sept.-Oct. 2014, p. 39.
Chara Kolokytha, 'The art press and visual culture in Paris during the Great Depression: Cahiers d'Art, Minotaure and Verve,' Visual Resources: An International Journal of Documentation 3, vol. 29, Routledge / Taylor & Francis, Sept. 2013, pp. 184-215.
Chara Kolokytha, 'Christian Zervos et Cahiers d'art, Archives de la Bibliothèque Kandinsky,' Konsthistorisk    tidskrift/Journal of Art History 4, vol. 82, 2013, pp. 339-342.