Research Proposal
Workshop
Research Results
Short Bio
Publications
Summary of the Research Proposal
The project focuses on the examination of the typology and cultural permeability of Nordicism within the Western European cultural sphere between the wars. It traces the cluster of ideas developed around the problematic historical trajectory of Nordicism, paying necessary attention to questions of meaning, reception, interpretation and identity. Its central objective is to set the foundations for the writing of an alternative cultural history of Western Europe in which Nordicism is not reduced to interpretations of nationalism, racism and regionalism but advocates a distinct transcendental cosmopolitanism. This project takes as a point of departure the concept Le Génie du Nord, which featured as the title of a 1925 book published in Antwerp by the Flemish author André de Ridder.  The book mainly consisted of essays previously published in the Francophone Flemish art magazine Sélection (edited by De Ridder and Paul-Gustave van Hecke). Shifting in time between the present and the Middle-Ages, De Ridder literally argued that France should not claim autonomy in the field of cultural production throughout the centuries since Nordic influence has always played a central role to its evolution. In response to what he identifies as decline in the Greco-Roman tradition of the South, De Ridder proposes a Western European alliance (France, Belgium, Germany) aiming at the creation of a Northern classicism, the crowning achievement of a universal Nordic culture. By identifying Antwerp as a cultural crossroad, this research seeks to trace aspects of cosmopolitanism in De Ridder's term 'The Northern Genius', as well as north-south antagonisms ιn a regional and pan-European context.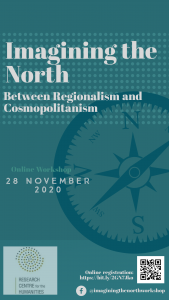 Online Workshop
Imagining the North: Between Regionalism and Cosmopolitanism
This workshop is organized by Dr. Chara Kolokytha within the context of her research project "′Le Génie du Nord′ and Cosmopolitanism: An alternative cultural history of Western Europe between the wars" which is supported by the Research Centre for the Humanities (RCH) for the year 2020.
Online Registration: https://bit.ly/2GN7Jko
---
– CENTRAL EUROPEAN TIME (CET) –
11.00-11.10 Welcome (RCHumanities)
11.10-11.30
Spinning the Compass: On studying geocultural stereotypes in a comparative framework / Assoc. Professor Alex Drace-Francis (University of Amsterdam)
11.30-11.40 Break
11. 40 -12.00
Blast and the North / Dr Nathan O'Donnell (National University of Ireland, Maynooth)
12.00-12.20
Le Génie du Nord and Cosmopolitanism: An Alternative Cultural History of Western Europe between the Wars / Dr Chara Kolokytha (RCHumanities/Ionian University)
12.20-12.40 Discussion
12.40-13.00 Break
13.00-13.20
«Sang du nord» and «vie méditerranéenne»: A debate between Josef Strzygowski and Henri Focillon / Dr Annamaria Ducci (Fondazione Ragghianti, Lucca)
13.20-13.40
Aspects of Northernness in Werner Haftmann's German Modern Art / Vincenza Benedettino (Universität Heidelberg / École du Louvre)
13.40-14.00 Discussion
14.00 Closing remarks
Online registration open until November 27: https://bit.ly/2GN7Jko
For any queries contact: charakolokytha@aol.com
---
Research: "′Le Génie du Nord′ and Cosmopolitanism: An alternative cultural history of Western Europe between the wars"
Researcher: Chara Kolokytha
The research project "′Le Génie du Nord′ and Cosmopolitanism: An alternative cultural history of Western Europe between the wars" was funded by the Research Centre for the Humanities (RCH) for the year 2020.
Introduction
This research was centred around the longstanding and well known regional and linguistic debate between the Northern Flemish and the Southern Walloon regions of Belgium, which is inscribed in ideological and historiographical discourses on North-South rivalries in the broader European spatio-temporal context. Belgium occupies a special place in the history of linguistic nationalism in modern Europe.  Most studies focus on the complex historical background of the three culturally diverse Belgian regions with particular regards to the emergence of a distinctive form of nationalism in the Flemish region.[1]  Nordic regionalism constitutes only one of the threads within this nexus of cultural trends including Pan-Germanism, Nordicism and Gothicism.
Taking the origins of the concept of Northernness as a case point, I was particularly interested in cases deriving from art and literature, where the debate is carried out by individuals in a quasi-apolitical arena. As indicated by the working title, I took as a point of departure the concept 'Le Génie du Nord' (The Northern Genius), which was used as the title of a 1925 book published in French, in the Flemish city of Antwerp, by the Flemish art and literary critic and professor of statistics at the University of Ghent, André de Ridder. The title alone of the book raises questions and legitimate suspicion concerning its author's intentions.
The research traced the cluster of ideas developed around the problematic historical trajectory of Nordicism, paying necessary attention to questions of meaning, reception, interpretation, politics, identity and ideology. Its central objective was to investigate whether the writing of an alternative cultural history of Western Europe was possible, in which the conceptualised European North is not reduced to interpretations of nationalism, racism and regionalism, but advocates a distinct transcendental cosmopolitanism.
Taking as a point of departure the 1925 publication of Le Génie du Nord, which has reflected most thoroughly and most programmatically on the concept of a 'Northern Genius', my project involved a threefold research strategy: 1. It sought to examine the Génie du Nord concept in its direct cultural context starting with discursive and narrative analyses of De Ridder's text, embedding it in his own biography, 2. It inquired the genealogy of the concept in Western Europe from the late nineteenth to the early twentieth century, attempting to trace preceding patterns of thought that gave birth to the concept, 3) It surveyed the Nachleben/afterlife of the concept in interwar and post-war Belgium, France and Germany.
State-of-the-art
The use of the term 'genius' is inscribed in the emergence of 'new categories' in historiographical analyses in the 1920s, oriented towards national or ethnic identities, as evinced in the work of the Dutch cultural historian Johan Huizinga, discussed by Michela Passini in her study on nationalism and the origins of art history in France and Germany from the end of the 19th century to the interwar period.[2] Literary historians, however, might stress a different understanding of the term 'genius', which was introduced by Madame de Stael in the Romantic era to indicate transcendence of national boundaries. From a cosmopolitan perspective, 'people of genius', as Jefferson has pointed out, are always 'compatriots amongst themselves despite their nationality'.[3]
The distinction between the Latin and the Germanic geniuses, which is by definition a distinction between North and South, falls into the first interpretation and it was by and large the result of the 'renewal' brought about by the so-called 'barbarian invasions', according to Eric Michaud, leading the Roman Empire to decadence and paving the way for modernity. The reconsideration of these invasions of the fourth and the fifth centuries of the Common Era 'made possible the re-writing of European cultural history in the 19th and the 20th centuries'.[4] These ideas persisted until the outbreak of the Second World War. My research investigated an alternative discourse in Western European cultural history, putting Belgium on the spotlight.
Michaud argues that the 'fragmentation of classic eternity' began with Romanticism and goes hand in hand with the formation of nation states and the rise of nationalism in Europe.[5] Ideas on the superiority of the Northern phenotype circulated across Europe since the late 19th century having Darwinism as a point of departure. These ideas were fuelled by the studies of Arthur de Gobineau, the father of racist ideology, and later by the widely accepted racial maps of the anthropologists Joseph Deniker and William Ripley.[6] A few years later, in 1916, the American eugenicist Madison Grant would propose his own version of a European racial map, which nonetheless passed for many years unnoticed.[7]
The cultivation of this 'Nordic Myth' found refuge in the writings of many, including the Austrian-Polish art historian Joseph Strzygowski in the beginning of the 20th century, through particularistic assertions that Southern imperialism suppressed Northern mentality.  The concept of Northernness preserves direct leanings with regionalist identifications in France. Since the beginning of the century, the North underwent scrutiny through periodical publications (Revue du Nord, Nord-Revue, Almanach de l'amitié de France et de Flandre, Septentrion) and specialist studies (Lemay and Robyn, Le Nord, 1926). The interesting point with these publications is that they appropriate the term 'north', which is literally a universal compass point, to signify a predefined cultural idiom, a fact that is potentially telling of a shared belief in a prevailing Northern mentality.
 In France, where the Latin and the Germanic spirits dominate the country's Southern and Northern regions, the role of the Northerner Maurice Barrès was pivotal to the formation of a nationalist anti-Germanic rhetoric seeking to rid French Flanders from its Germanic influences. In keeping with the barrèsian ideas, another Northerner, André Mabille de Poncheville, launched Les Cahiers de l'Amitié de France et de Flandre (1918-1924), seeking to reconcile the Latin and the Germanic geniuses and to prove that Flanders constituted a genuine and vital part of French culture.
De Poncheville, furthermore, preserved a keen interest in Belgian culture. His admiration for the Flemish Symbolist poet Emile Verhaeren offers a direct link to De Ridder's Le Génie du Nord concept. In fact, the foundations of this concept are traced in Verhaeren's 1898 speech titled 'Le Génie', which had exerted significant impact on De Poncheville's thinking. His 1920 monograph Verhaeren en Hainaut, announced his forthcoming book titled Le Génie du Nord, which quite possibly drew inspiration from Verhaeren's presentation of the term 'genius'. The book was also advertised elsewhere. It is, however, untraceable and one might assume that its publication was cancelled. It is possible that De Ridder appropriated the idea and adjusted it to his own concept. De Poncheville's connections to De Ridder's own book and concept are therefore likely but remain obscure.
Mapping the Concept
De Ridder's 1925 book Le Génie du Nord was inevitably informed by these references. However de Ridder deliberately shifted the focus of the North-South confrontation from Germany to the northern regions of Belgium and France, sketching roughly an alternative mental map of the Northern Genius, although de Ridder's 'spiritual north' extended beyond the borders of the two countries to all the people that were racially distinct from the Latin genius.[8] He, furthermore, understood Barrès differently as compared to De Poncheville, insisting that Barrès advocated 'a genius of the Rhine' which did not appear at all to be 'incompatible with what has become, in synthesis, the French genius'. On the contrary, he acknowledged that this was one of Charles Maurras' main errors and his narrow-minded "measure of France" that limited 'the body of the homeland to what constitutes only a part of its integral organism'.[9]
De Ridder's aversion to the idea of Pan-Germanism is attested to in his activities during the Great War. He fled Belgium to the neutral Netherlands as happened with about one million of his compatriots and did not return to his homeland until after the end of the war. In 1915, his name appears as a co-signer of 'The Flemish Manifesto' published by the Dutch journal Neerlandia, where he openly identifies Germany as the enemy and objects to the so-called Flamenpolitik (Flemish Policy), which refers to the German policy in the occupied Belgium, including the favourable measures taken for the benefit of Flemish language and identity, encasing the occupier's aspirations for a pan-Germanic northern culture.[10] De Ridder took the side of the so-called passivists or minimalists representing the opposite realm of the activists or maximalists, who collaborated with Germany in order to satisfy their longstanding demand to establish Flemish over French as the official language. The maximalists had founded in 1914 the Jong-Vlanderen (Young Flanders) group in Ghent, which likely mobilised the reactions of De Ridder and the Flemings in exile.[11]
The co-signatories of the Flemish Manifesto were all Flemish war refugees in the Netherlands and represented the political, artistic and literary scene in Flanders. The Manifesto includes multiple references to the Flemish Movement, established since 1870, which opposed Flemish 'frenchification' policies namely relating to the language question and struggled for the emancipation of the Flemish people. However the flamigantist positions of the manifesto were moderate, clearly opposing separatism as well as the enemy's – that is the German's – machinations at the expense of Belgian sovereignty. From de Ridder's earlier political positioning, it is evident that the 'Génie du Nord' concept kept its distance from the ideology of pan-Germanism.
The book mainly consisted of essays published between 1923 and 1924 in Sélection, an artistic and literary review published in Brussels and Antwerp from 1920 to 1933 by de Ridder and Paul-Gustav van Hecke. It was self-promoted as a review having the intention to serve at the same time the Belgian, the French and the European cause. The core of my research was to trace the origins of this concept and to pinpoint what cultural dynamics were at play.
The first essay of the Northern Genius series was titled 'From the Mediterranean to the Atlantic Sea' advocating that north and south have had mutual influence since the time of the 'barbarian invasions'. 'The Dangers of Neoclassicism' were discussed in the second essay. The third, under the title 'The Northern Soul', mapped the Spiritual North. The book included one more chapter under the title 'On the Belgian 'March'', which clearly formulated the idea that nationalism is the only path towards internationalism. De Ridder envisioned the spiritual renaissance of Europe through the creation of a Northern classicism that combines French rationalism with Flemish expressionism, an eclectic dualism in Edmond Picard's words. This fact quite likely justifies the choice of the name of the review Sélection, considering that its content was characterised by aesthetic eclecticism, which accommodated de Ridder's vision to pinpoint the characteristics of modern Northern mentality, which was not reduced to Flanders and northern France but included references to Britain and Russia, Belgian allies during the Great War, and, to a much lesser extent, Germany.
Apart from the Flemish exponents of what he named 'constructive expressionism', such as Gustave de Smet, Frits van den Berghe and Constant Permeke, members of the second Sint-Martens Latem colony,[12] the review also gave space to the Russians Marc Chagall, Wassily Kandinsky and Ossip Zadkine, French artists coming exclusively from the Northern regions of France, such as Raoul Dufy, Louis Marcoussis, Fernand Leger and Marcel Gromaire, the British Vorticist Edward Wadsworth and the German Willi Baumeister, who was in fact presented as a cubist influenced constructivist.
Afterlife/ Nachleben of the Concept
The book was poorly received in France. Its ideas were interpreted as a blatant attack against the everlasting influence of neo-classicism in modern French culture and were considered outdated, uninformed and biased.[13] This was in fact a misreading of the book's content. De Ridder underlined the constant threat of neo-classicism in order to shake belief in the Latin heritage of France, and reclaim the share of Belgian and French Flanders in the flourishing of medieval art, interrupted by the Italian Renaissance. A modern renaissance was possible, he thought, through the combination of French reason with Flemish mysticism.
Another significant aspect of his polemic concerned Parisian indifference towards Belgian art and culture. De Ridder sought on several occasions to promote Flemish art and literature in France through articles and books that he published in French language. In fact, his persistence to write in French rendered him susceptible to severe criticism by Flemish conservatives.[14] He, nevertheless, published deliberately in Flemish language psychological biographies of outstanding northern French authors, such as Jean de la Fontaine and Remy de Gourmont, possibly to raise sentiments of exclusion, similar to the ones suffered by the Belgians.
Le Génie du Nord stressed the cosmopolitan nature of Belgium, which was presented as a cultural crossroad infiltrating influences from the North, the South and the East in order to enhance but not alter its cultural identity, shaped as 'a distinct formation between Gaul and Germania, at the crossroads leading from England to Italy, from France to Russia, through England.'[15] The book presented examples of the fruitful cultural interaction between Belgium and France in art, literature, music and philosophy.
There is little doubt that de Ridder was influenced by the writings of Strzygowski, although, instead of Germany, he placed Belgium at the centre of his own narrative of Northern cultural supremacy. This fact has to be understood in terms of the emancipation efforts of the Flemish movement and the cosmopolitan aspirations of the Van Nu en Straks movement in Belgium, which translates as On Now and Then, that had shaped de Ridder's opinion during his youth, and more importantly the review De Boomgard and the Orchard generation headed by de Ridder and van Hecke, with its members striving to be more cosmopolitan than the former group by introducing the aspect of cultural dilettantism. This dilettantism went hand in hand with eclecticism and was regarded as an essential part of Flemish culture. August Vermeylen's oft-quoted dictum, 'To be Flemings, in order to be Europeans', appears to be highly relevant in this context, a dictum appropriated by de Ridder in the book.[16]
In addition to being an art and literary critic, De Ridder also spoke as an economist opposing protectionism and advocating internationalism and free trade policies for the circulation of art and ideas. The geopolitical reshaping of trade dynamics is also at issue here, since a shift in trade dynamics from the Mediterranean to the North Sea could also play tacitly a role in his aspiration, considering Antwerp as a commercial crossroad of the North. De Ridder's book proposed a modern international culture of Nordic output and was advertised as a critique of regionalism in terms of the Latin and Hellenic ideals and the neoclassical aspirations that had been revived in contemporary art and thought. De Ridder was aware of the ideological weight of his propositions and the dangers of misconception that they entailed, emphasizing on several instances that his views were unconcerned with politics, but rather sought to set the foundations of a universal culture, which was nonetheless oriented towards the North.
Despite the little attention that was paid to his book and ideas, similar views were in fact pervasive in France but were reduced to the franco-german debate. The Parisian art critic Waldemar George was one of the few to grasp the meaning of De Ridder's references. Upon de Ridder's invitation to 'portray' Chagall 'in the light of the northern spirit' for the sixth Cahier Sélection, dedicated to the Russian-born artist, George included a long introduction discussing Strzygowski's positions in Orient oder Rom (1901), although he expressed disbelief in his doctrines.[17] George presented the Belgian artist James Ensor as the 'first messenger of the spirit of the North' in the same way as Strzygowski championed Arnold Böcklin as the major representative of the re-emerging Nordic style. The reference is telling, for De Ridder was preparing his first monograph on Ensor at that time, published in 1930.
Only a year earlier, in 1928, George had published two monographs on Gromaire and Giorgio de Chirico, each one including the chapters 'Chirico and the calls from the South' and 'Gromaire and the message from the North'.[18] This confrontation between North and South, according to Raymond Cognat, who commented on the two books, can only take place in France, the 'only possible meeting place, where no party is being more advanced than the other'.[19]
Similar views appear to be widespread in France. The same year, in a monograph dedicated to Léger, the art critic Tériade presented the stark contrast between the Mediterranean classicism of Picasso and the synthesis of Latin classicism with the Nordic spirit in the work of Léger.[20] Tériade was invited to contribute to the fifth Cahier Sélection, dedicated to Leger in February 1929, an article under the title 'North-South' claiming that Leger represented a classic phase in the development of Northern art.
The proposed schemes varied and often cancelled each other out. In Picasso et la tradition Française, also published in 1928, Wilhelm Uhde identified two major tendencies in Parisian art. The inherent to the French tradition analytic style was exemplified in the works of the Impressionists, August Renoir, and subsequently Henri Matisse. On the contrary, the synthetic style, introduced by Paul Cézanne and Georges Seurat was epitomised in the works of Picasso and was viewed as a Germanic element that brought a total break with the national tradition.
In 1934, the debate promoted by the Institute of Intellectual Cooperation of the League of Nations was centred on the diptych Génie du Nord-Latinité inviting two prominent art historians, Strzugowski and Henri Focillon to defend their own views on the topic. Although the term 'Génie du Nord' was introduced about a decade earlier by De Ridder, the debate of the League of Nations did not include references to it, a fact that is telling of its parochial reception and impact.
Conclusion
In keeping with Strzygowski, whose ideas met widespread circulation in the late 1920s through translations,[21] all these distinctions between the northern and the southern spirit in art were developed on purely stylistic grounds, additionally evoking influences by the formalist art historian Heinrich Wollflin and the historiographical debates over the ethnic origins of gothic art.
De Ridder kept promoting his small group of Flemish artists abroad, as painters from the North, but avoided the use of the term 'Northern Genius' in his future texts. However, he did not abandon his ideas. In his study of expressionism in 1953, he attempted to revise the history of the movement, as has been established up to that time, in order to support his claim that Flemish expressionism developed simultaneously but independently from the German influence, it survived in time and it was coherent and homogeneous as compared to its other manifestations in Europe.[22]
Le Genie du Nord was published in 1925, a year that marked a 'classic phase', according to Verleysen, in the development of Flemish expressionism which fuelled de Ridder's anticipation for the birth of a Northern classicism.[23] This concept became the rhetorical weapon against the raise of Pan-Germanism and the revival of Pan-Latinism through the Call to Order concept which sought the establishment of a new modern classic order. De Ridder's book and ideas fall into the uncommon category of Cosmopolitan Nationalism and may be compared to Ernst Cassirer's Weimar Republic and his local commitment to both concepts.[24] Le Genie du Nord was born out of the devaluation suffered by Flemish culture as hybrid, peripheral and, that being so, susceptible to the influence either of France or of Germany, constituting a rallying cry for cultural decentralisation and the emancipation of Flemish culture.
---
*All translations are my own, unless otherwise stated. I'd like to express my sincerest thanks to the RCHumanities for supporting my research and particularly Despoina Valatsou and Athena Bozika for all their support, Kelly Linardou for her kind contribution to the workshop. I furthermore address my warmest thanks to Marnix Beyen, Danielle Pallmans from the Letterenhuis in Antwerp, the personnel of the Royal Libraries of Belgium, the Musée de la Littérature (AML) and the Archives de l'Art Contemporain en Belgique (AACB).
[1] Cf. Kas Deprez and Louis Vos (eds), Nationalism in Belgium. Shifting identities, 1780- 1995, London : Macmillan, 1998. Marnix Beyen, 'Eine lateinische Vorhut mit germanischen Zügen. Wallonische und deutsche Gelehrte über die germanische Komponente in der wallonischen Geschichte und Kultur,' in B. Dietz, H. Gabel and U. Tiedau (eds.), Griff nach dem Westen. Die 'Westforschung' der völkisch-nationalen, Wissenschaften zum nordwesteuropäischen Raum (1919-1960), Munster: Waxmann Verlag, 2003, pp. 351-381.
[2] Michela Passini, La fabrique de l'art national. Le nationalisme et les origines de l'histoire de l'art en France et en Allemagne, 1870-1933, Paris, Editions de la Msh, 2012.
[3] Ann Jefferson, Genius in France: An Idea and its Uses, Princeton University Press, 2015, p. 60.
[4] Eric Michaud, The Barbarian Invasions: A Genealogy of the History of Art, MIT Press, 2019.
[5] Ibid.
[6] Cf. Arthur de Gombineau, Essai sur l'inégalité des Races humaines, vol. I-VI, Paris, Didot, 1853-55. Joseph Deniker, The Races of Man: an Outline of Anthropology and Ethnography, London: Walter Scott, Ltd., 1900. William Ripley, The Races of Europe, New York, D. Appleton & Co, 1899.
[7] Madison Grant, The Passing of the Great Race, New York, Scribner's Sons, 1916.
[8]André de Ridder, 'Le Génie du Nord III: L'Ame Septentrionale', Sélection 19, 1924, p. 472.
[9] André de Ridder, 'Le Génie du Nord I: De la Méditerranée à la Mer Océane ', Sélection 1, 1923, p. 9.
[10] Frans van Cauwelaert, Cyriel Buysse, Julius Hoste, Leo van Puyvelde, André de Ridder, Arthur Buysse, Alberic de Swarte, Leonce du Catillon, 'Vlaamsch manifest, Neerlandia 19, 1915, pp. 186-7.
[11] See also Manu van der Aa, 'André de Ridder in Amsterdam 1914-1918', in Zacht Lawijd, literair historisch tijdschrift 14, no 2, 2015, pp. 28-51.
[12] André de Ridder, Laethem Saint-Martin. Colonie d'artistes, Brussels/Paris : Lumière, 1945.
[13] L'Intransigeant, 24 December 1925, p. 6.
[14] 'The fact that one runs a French journal points not towards "franskiljonism," believe me, but towards spiritual internationalism. The reason for founding "Signaux"* has only been personal friendship and like-mindedness with French writers. . . . No politics was involved'. Letter from André De Ridder to E. De Bock, 19 September 1922 [AMVC R462] cited in: Reine Meylaerts, 'Conceptualizing the Translator as a Historical Subject in Multilingual Environments: A Challenge for Descriptive Translation Studies?', in Georges l. Bastin and Paul F. Bandia (eds), Charting the Future of Translation History, University of Ottawa Press: 2006, pp. 68-69.
[15] André de Ridder, 'Le Génie du Nord I: De la Méditerranée à la Mer Océane ', Sélection 1, 1923, p. 25.
[16] See also Theo D'haen, 'To be Flemish in order to become European: August Vermeylen and Flemish literature,' in Alexandra Vranceanu and Angelo Pagliardini (eds), Rifondare la letteratura nazionaleper un pubblico europeo, Frankfurt, P. Lang, 2014, pp. 131-145.
[17] Waldemar  George, 'Lettre ouverte à André de Ridder sur Marc Chagall et le Génie du Nord', Sélection 6, April 1929.
[18] Waldemar George, « Chirico et les appels du Sud », in Giorgio de Chirico, for the series Les Maitres nouveaux, Paris, Chroniques du jour, 1928. « Gromaire et le Message du Nord», in Marcel Gromaire, for the series Les Maitres nouveaux, Paris, Chroniques du Jour, 1928.
[19] Raymond Cognat, 'Gromaire et Giorgio de Chirico vus par Waldemar George', La Femme de France, 21 November 1928, p. 22.
[20] Tériade, Fernand Léger, Paris: Cahiers d'Art, 1928, p. ix. Tériade, 'Nord-Sud,' Sélection 5, February 1929, pp. 7-10.
[21] Cf. Josef Strzygowski, 'The Orient and the North', Eastern Art 2, vol. 1, 1928, pp. 69-85.
[22] 'Although I do not wish to underestimate the pioneer role played by Germany in this international movement, it would nevertheless be very unfair to measure expressionism mainly by the achievements of the protagonists of Die Brücke and Der blaue Reiter ; this would be overlooking much of what was accomplished in other countries, sometimes in very different directions, which proved to be far more durable, often much more valuable, than the experiments of the first German Expressionists, many of which were lost along the way.' A. De Ridder, 'Plastiek – Het ontstaan van het expressionnisme in België', West-Vlaanderen, Jaargang 2, 1953, p. 94.
[23] Catherine Verleysen, chapter 16: 'Flemish Expressionism in Belgium', in Isabel Wünsche (ed.), The Routledge Companion to Expressionism in a Transnational Context, Routledge, 2018, 16p. Virginie Devillez, Le retour à l'ordre. Art et Politique en Belgique 1918-1945, Brussels, Editions Labor-Dexia Banque, 2003.
[24] See also Emily Levine, 'Cassirer's Cosmopolitan Nationalism', in E. Levine, Dreamland of Humanists, University of Chicago Press, 2019, pp. 197-302.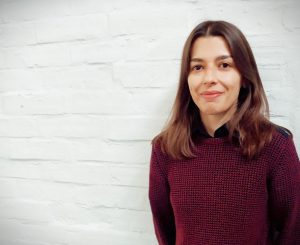 Chara Kolokytha holds a PhD in Art History from Northumbria University, Newcastle. She is a Teaching Fellow at the Department of Fine Arts and Sciences of Art, University of Ioannina. She studied Archaeology and Art History at the University of Crete and Northumbria University, Newcastle-upon-Tyne. Her thesis titled Formalism and Ideology in 20th century Art: Cahiers d'Art, magazine, gallery and publishing house (1926-1960) examines aspects of modernism and tradition in 20th century art with certain focus on the networks of dealers, critics, artists and collectors associated with the activities of the art magazine, gallery and publishing house Cahiers d'Art and its founder Christian Zervos, aiming at the institution of independent art in France. In 2018, she conducted post-doctoral research at the Stiftung Arp e. V., in Berlin. She has collaborated with the research programmes Christian Zervos au miroir de la Grèce (EFA) and Bibliographies de Critiques d'Art Francophones (Labex CAP, Sorbonne), as well as the Allgemeines Kunstlerlexikon, the Art Market Dictionary, the Routledge Encyclopedia of Modernism et al.
Chara Kolokytha,  'Picasso vs. Fougeron: Cahiers d'Art and quarrels over realism in France (1932-1949)', in Moritz Baßler, David Ayers, Benedikt Hjartarson, Ursula Frohne and Sascha Bru (eds), Realisms of the Avant-Garde, European Avant-Garde and Modernism Studies vol.6, Berlin&Boston : De Gruyter, 2020.
Chara Kolokytha, 'Christian Zervos, les galeries Cahiers d'Art et M.A.I., la suppression des –ismes de l'Art,' in Denise Vernerey and Hélène Ivanoff (eds) Galeries et Avant-gardes : Réceptions croisées, vol. II: Berlin, Mont-Saint-Aignan : PURH, 2020.
Chara Kolokytha, 'Christian Zervos critique d'art: partis pris, polémiques et débats,' in Catherine Méneux and Marie Gispert (eds), Critique(s) d'art : nouveaux corpus, nouvelles méthodes, Paris, site de l'HiCSA, mis en ligne en avril 2019, pp. 257-272.
Chara Kolokytha, 'Cubism [REVISED AND EXPANDED]', in Stephen Ross (ed.), Routledge Encyclopaedia of Modernism, N.Y./London: Routledge, 2019 (4.500 words) /shorter version published in 2016.
Chara Kolokytha, 'Matisse [REVISED AND EXPANDED]', in Stephen Ross (ed.), Routledge Encyclopaedia of Modernism, N.Y./London: Routledge, 2019 (2100 words) / shorter version published in 2016.
Chara Kolokytha, 'A new History of Art Criticism in the light of Digital Humanities: The Bibliography of Francophone Critics,' Visual Resources, An International Journal on Images and their Uses,  3-4, vol. 33, Taylor & Francis, 2017, pp. 419-422.
Chara Kolokytha, 'Christian Zervos, Les Oeuvres du Greco en Espagne, review of the Greek annotated translation', Ιστορία της Τέχνης / Art History 6, summer 2017, pp. 181-185.
Chara Kolokytha, 'Metamorphoses of the past: The iconographic stimuli of Picasso's creative imagination and their critical interpretation by Christian Zervos,' in Magdalena Nová and Maria Opartná (eds), Old and New: Are Old Works of Art a Starting Point or an Obstacle?, conference proceedings, Prague: Charles University, Catholic Faculty, 2016, pp. 225-232.
Chara Kolokytha, 'The debate over the creation of a Museum of Modern Art in Paris between the wars and the shaping of an evolutionary narrative for French art,' in Silvia Cecchini and Patrizia Dragoni (eds), Museums and Exhibitions between the wars, Il Capitale Culturale. Studies on the Value of Cultural Heritage 14, EUM, 2016, pp. 193-222.
Chara Kolokytha, 'La critique d'art dans l'entre deux guerres: Le cas de Tériade et Christian Zervos,' F.-G. Theuriau (ed.) La démarche critique dans le monde culturel, Ed. Vaillant, 2015, pp. 81-90.
Chara Kolokytha, 'L'Âge Critique des Salons: 1914-1925. L'Ecole Française, la tradition et l'art moderne,' Konsthistorik Tidskrift/Journal of Art History 4, vol. 48, 2015, pp. 234-238.
Chara Kolokytha, 'L'amour de l'art en France est toujours aussi fécond : La Maison d'Editions Verve et la reproduction de manuscrits à peintures conservés dans les Bibliothèques de France pendant les années noires (1939-1944),'French Cultural Studies 2, vol. 25, Sage Pub., May 2014, pp. 121-139.
Chara Kolokytha, 'O Tériade, η επιθεώρηση Verve και ο Παρισινός καλλιτεχνικός κόσμος (1937-1960),' in Tériade: France-Grèce, Tellogleio Arts Foundation and Aristotle University of Thessaloniki. [English title: Tériade, Verve magazine and the Parisian art world, 1937-1960/ publication pending since 2015].
Chara Kolokytha, 'Destroy…Alexander Iolas: The villa-museum and the relics of a lost collection,' Arts 3 / Special Issue Exhibition Studies, vol. 1, MDPI, Basel, Switzerland, Feb. 2014, pp. 105-115.
Chara Kolokytha, 'Line V. Color: Matisse: The essence of line, Selected Prints: 1900-1950,' Art In Print, Chicago, Sept.-Oct. 2014, p. 39.
Chara Kolokytha, 'The art press and visual culture in Paris during the Great Depression: Cahiers d'Art, Minotaure and Verve,' Visual Resources: An International Journal of Documentation 3, vol. 29, Routledge / Taylor & Francis, Sept. 2013, pp. 184-215.
Chara Kolokytha, 'Christian Zervos et Cahiers d'art, Archives de la Bibliothèque Kandinsky,' Konsthistorisk    tidskrift/Journal of Art History 4, vol. 82, 2013, pp. 339-342.