Το Κέντρο Έρευνας για τις Ανθρωπιστικές Επιστήμες (ΚΕΑΕ) και το Νορβηγικό Ινστιτούτο Αθηνών σας προσκαλούν στο συνέδριο Greece and Norway: European center, periphery or it's complicated? που θα διεξαχθεί στις 11 Απριλίου 2022 από τις 11.30 έως τις 18.00.
Το συνέδριο θα πραγματοποιηθεί υβριδικά στην αγγλική γλώσσα και θα υπάρχει δυνατότητα παρακολούθησης μέσω της πλατφόρμας zoom.
Zoom link: https://us02web.zoom.us/j/84935071103?pwd=dVJNcnRqcmljU0N1SmxTNS9KRzdMdz09
Meeting ID: 849 3507 1103
Passcode: 787642
---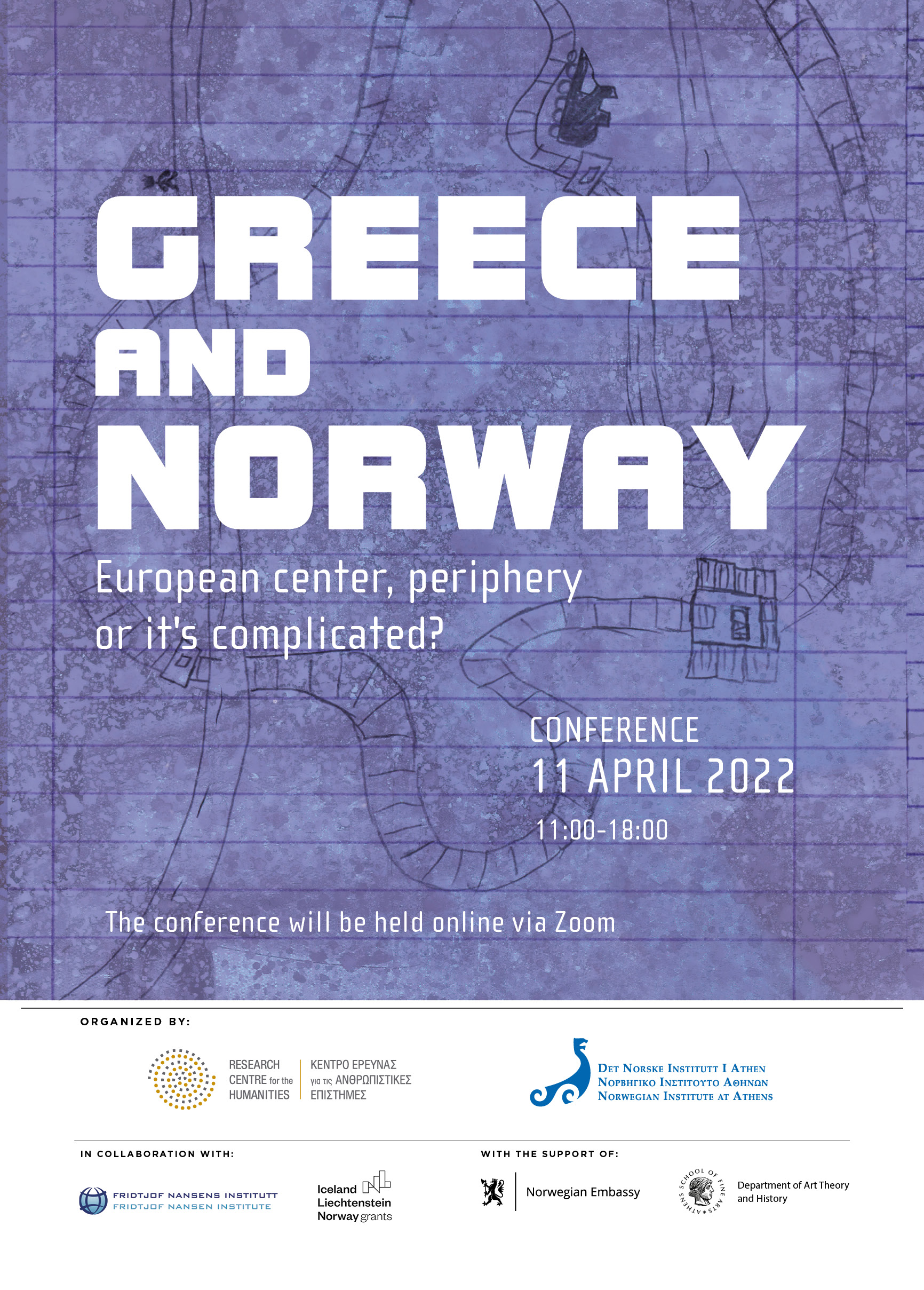 ---
GREECE AND NORWAY: Center, periphery or it's complicated?
11 April 2022
Program
11:00-11:30 Welcome
Frode Overland Andersen, Norwegian Ambassador to Greece and Cyprus
Anna Korka, Ambassador of Greece to Norway
Delia Tzortzaki, Norwegian Institute at Athens
Welcome & opening remarks: Ada Dialla
11:30-12:45 Peripheral humanitarian visions: Norway and Greece
Chair: Efi Avdela
Haakon A. Ikonomou, Peripheral entanglements at the core of ordering: the compulsory Greco-Turkish population exchange
Iver Neumann, Nansen's centenary: Norwegian humanitarian work, 1922-2022
Morten S. Andersen, Core values and peripheral actors: Greece and Norway in a changing international order
Discussion
12:45-14:00 Lunch
14:00-15:40 Center, Peripheries and Localities
Chair: Kostas Gavroglu
Akritas Kaidatzis & Alexandros Kessopoulos, Judicial review of legislation in 19th century Greece and Norway: Constitutional exceptionalism or regional diversification?
Pavlos Moulios, "Vi som elsket America": a comparative view of technology, home consumption and culture in post-war Norway and Greece
Costis Hadjimichalis, Rethinking uneven European socio-spatial relations beyond the core-periphery model
Artemis Papatheodorou, Re-centering the centre: archaeology on Samos in the 19th and early 20th centuries
Discussion
15:40-16:00 Coffee break
16:00-18:00 Transmissions Sound Art Residency Exchange
20-minute Documentary Film Screening, Transmissions Sound Art Residency in Vardø
(dir. Sanjey Sureshkumar w. Karolin Tampere)
Roundtable: Ioannis Kotsonis, Danae Stefanou, Karolin Tampere, Anna Papaeti, Maia Urstad
Discussion
Conference Scientific Committee
Morten Andersen, Efi Avdela, Ada Dialla, Iver Neumann, Athena Syriatou
List of Participants
Morten S. Andersen, Senior Research Fellow at the Norwegian Institute of International Affairs (NUPI), Head of the Research Group on International Order and Diplomacy
Efi Avdela, Professor Emerita, Department of History & Archaeology, University of Crete
Ada Dialla, Professor of Modern European History, Department of Art Theory & History, Athens School of Fine Arts, President of the Board, Research Centre for the Humanities
Kostas Gavroglu, Professor Emeritus, Department of History and Philosophy of Science, National and Kapodistrian University of Athens
Costis Hadjimichalis, Professor Emeritus, Department of Geography, Harokopio University
Haakon A. Ikonomou, Gerda Henkel Fellow and Teaching Associate Professor, Saxo Institute, University of Copenhagen
Akritas Kaidatzis, Assistant Professor of Constitutional Law, Aristotle University of Thessaloniki
Alexandros Kessopoulos, Assistant Professor, Department of Political Science, University of Crete
Ioannis Kotsonis, Artist & Curator, Syros Sound Meetings
Pavlos Moulios, PhD candidate, Department of Communication, Media and Culture, Panteion University
Iver Neumann, Director, Fridtjof Nansen Institute
Anna Papaeti, Transmissions Residency Invited Artist, Research Associate Professor, University of Cyprus
Artemis Papatheodorou, Adjunct Lecturer in Ottoman and Modern Turkish History, Department of History and Political Science, Panteion University
Danae Stefanou, Artist & Curator, Syros Sound Meetings & Associate Professor, Aristotle University of Thessaloniki
Karolin Tampere, Curator, North Norwegian Art Center, ​​Doctoral Research Fellow in Artistic Research at the Academy of Fine Arts, UiT Arctic University of Norway and The Art Academy – Department of Contemporary Art, University of Bergen
Maia Urstad, Τransmissions Residency Invited Artist
---
Πρόγραμμα Συνεδρίου (στα αγγλικά)